Journal Entry:
Wed Oct 9, 2013, 11:05 AM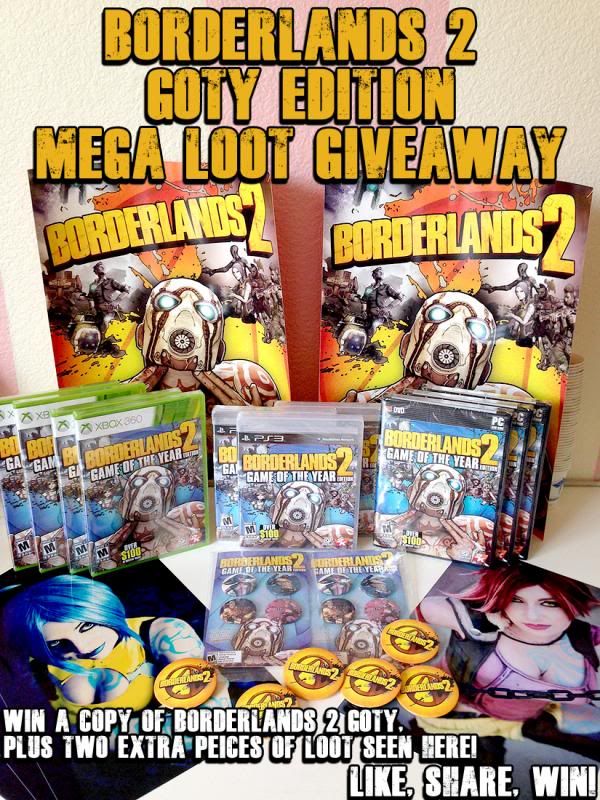 Let's make this #WUBWUBWEDNESDAY start off with a BANG!
I have in my hot little hands NINE copies of Borderlands 2 Game of the Year edition to give away to YOU. YES. YOU.  This is the perfect time to play Borderlands 2 for the first time because it includes all the DLC's, two additional Vault hunters, plus extra heads, skins and areas! Now this wouldn't be a proper Borderlands giveaway without even more loot.  So in addition to the game you'll receive either a Borderlands 2 poster or button, PLUS a signed siren print from me.  NOW THIS IS LOOT.
How to enter this mega loot giveaway:
Contest info
Winners will be chosen at random 10/18/13.
Winners will be contacted via email.
Winner will receive a copy of Borderlands 2 GOTY (system preference will be noted), a signed Borderlands 2 Cosplay print from WindoftheStars, and either an official Borderlands 2 poster or button.  
Contest is open to all locations and ages.
Now get out there and spread the WUB WUB!!!
Listening to: Civil Wars
Playing: Bioshock Infinite
Drinking: water